Independence Day is a reminder that Yes sports is a building block of our Nation: It must be a part of our life.
Viswanathan Anand has narrated his story, how he started his journey as a chess player, and how he became the grandmaster of chess. Readout the news to know the ultimate tale of a chess player and a role model.
He said making chess big as an international sport was not easy.
If you have inspiration in your game, then it helps you. but, if you do not have someone to help you could not do amazing things. Someone has to reach the success point so that they can become a role model for others.
When Viswanathan started playing chess, India was not having its own chess "Grandmaster", that ultimate title was still vacant. Viswanathan said he wanted to grab that opportunity, and he did. He said it's a great challenge to accept, India was not having its grandmaster, so it becomes easy for me to start my game without any pressure.
He said- he wanted to be the best at the chest and, there was no way to became a chess champion without becoming a Grandmaster, so it was tough achieving the title. He had played all the tournaments for achieving points to get a norm.
Viswanathan had struggled from 1985 to 1987, it took him two years to gain the title. He said this title was something that almost occupied his thoughts. After his examination, the champ used to think about how he can become a Grandmaster.
So, Viswanathan told he was lucky to be a part of so many great tournaments in India. That takes place in Bhilwara, Coimbatore, and Calcutta. That time, there were not such big events like now, but he got the opportunities to make his norms.
Stewart Ruben, arbiter, told Vishwanathan that one day he will get that title. And he got the title one day after scoring the final norm at the Sakthi Finance tournament. It is how our champion becomes the first chess Grandmaster.
He got a big jump in fame when he was in his school, and he won the National sub-juniors and qualified for it. He got recognition in the school and in 1987, won the World Juniors. He was so happy to get his photo on the magazine covers and giving interviews at a tender age. He said he got a lot of invitations from Europe and, at that moment his career moved on to the next stage.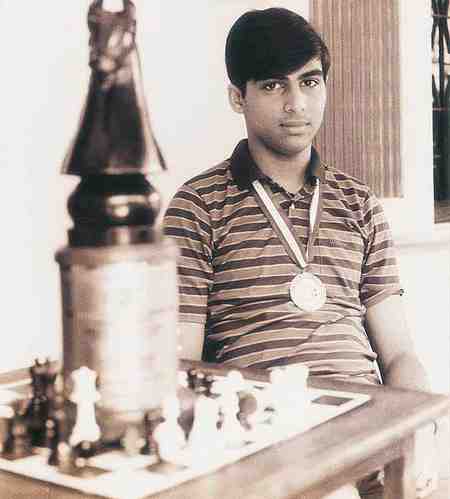 He thanked his parents who supported him in building his career in sports. He said he instinctively knew that helping him is a great decision.
According to him, one thing was missing in Indian chess i.e the appropriate training system was not there. But he builds a system for the upcoming chess player.
Vishwanathan said it was a magical moment for India when Neeraj Chopra win the gold. It was heart-melting to watch him winning after 41 years. Even the hockey team won the Olympic medal after 41 years, was happy for PV Sindhu getting a medal, and MirabaiChanu and LovlinaBorgohain playing an ultimate Olympic match.
In his words, he praised hockey players and golfer Aditi Ashok for their exceptional game. It was nice that there were so many individual success stories of Indian players in Tokyo. We hope next time will build a good show again. He said you must praise athletes, as they deserve that.
He said winning seven Olympic medals was unprecedented for our nation. For a long, the performers are doing great for India!
In the end, our Chess champion said, India must build a sporting culture. India has lots of stadiums, but if you don't know how to play, then talent is wasted. Every village, town city must have a stadium so that people should come forward and play. He said India has begun its journey in sports long ago, but we have to build it again to come forward.
He said as we celebrate Independence Day we have reminded of the importance of sports for our nation. Sport is something that makes us happy, as we can see in the Olympics.
The above are the words of our five-time World chess champion, Viswanathan Anand.
Image Cr- Wikipedia, StarsUnfolded,