What a remarkable moment for our Country, India! Often cricket overshadows other sports. Former Indian cricketer Virender Sehwag says, it is a wow moment" he said he felt proud.
Australia did their best, conceded one goal in Olympics. But, our Talented gems, Indian Players' held on to their nerves and did not get a chance for to opponent to dominate.
What India showed is? A blend of a great game strategy and aggression. The Indian team looked in command and, the Savita Punia was in the full form she was defending against the Australian attacks skillfully and performed extremely well.
This piece of news will give you Olympic updates. Check out the Indian player's game and their smartest move.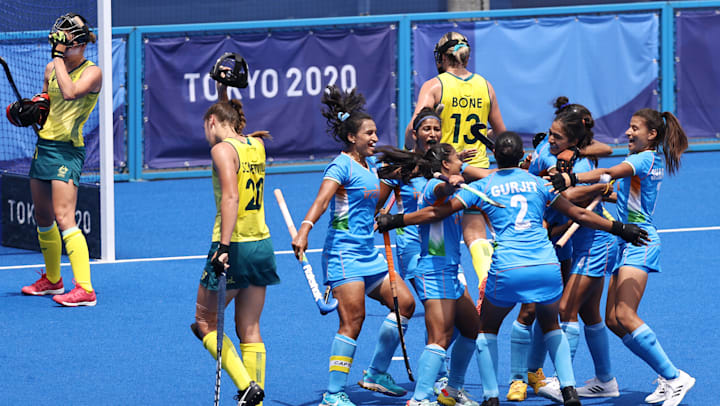 "We are so proud of our ladies".

Yes, Kaur's name is there on the score sheet, but Punia too stole the match. Her fantastic saves were significant in Keeping the opponent at bay. When a penalty corner was given to the Australian team in the last minutes, Punia shows her game strategy and shows a crucial dive to help her defenders.
The Indian team was down to almost ten players, that too twice, but still, our players booked their slot in an exciting semi-final.
As of now, India's performance in the Olympics has been tepid. We can say this week is glorious for India. What our hockey champs have done is incredible! They have set a bar and made history. One thing is clear, The game shows the pain behind their achievement! The game strategy is too good.
Apart from this, Great Britain has missed their Semi-finals match, by 3-1 to India. Now, they will play against Belgium. Till now, India is leading in Olympic hockey history. We had win 8 medals in 1980! now let's see what 2021 Olympics will add on the numbers or not.
If you are an Olympic -fan, you will love to know what will happen in the next match! Stay connected with our news blog. We will cover the latest news. Till then, do share your reviews with us in the comment section.
Image Cr- Reuters, Olympics