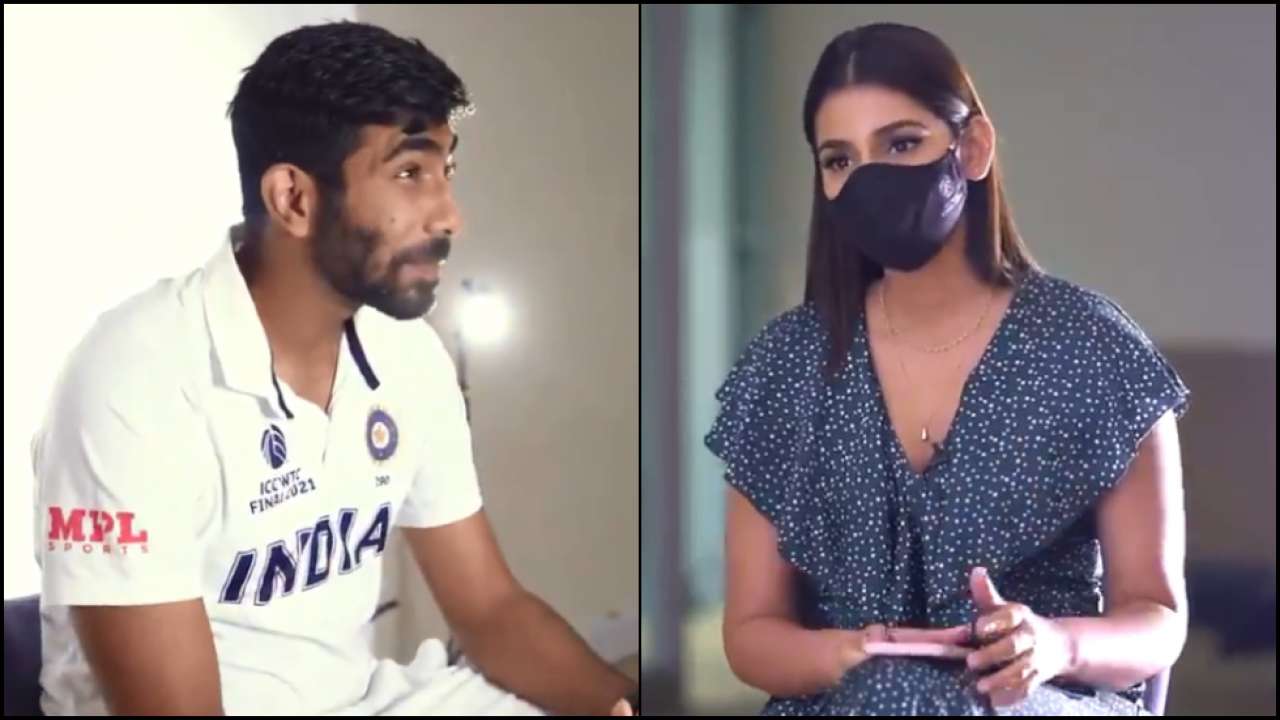 In this adorable interview - Jasprit Bumrah asks Sanjana Ganesan- Where Have I seen you before? Watch out for what they have interacted with within the video.
Before the World Test Championship Final began against NewZealand, Jasprit Bumrah, the Indian Pacer, was interviewed by Sanjana Ganesan, the well-known TV presenter and his wife. Both are looking stunning with their outfits, and the bond between the two is watchable.
Jasprit Bumrah has appeared for an interview hosted by Sanjana Ganesan and organized by the International Cricket Council (ICC). When Jasprit enters the interview room, he smiled and asked, "Where I have seen you before? Sanjana responded and said, "I am just around."
Before the interview starts, Jasprit Bumrah gives his introduction, and he said "I am Jasprit Bumrah, and this is my Instagram clicks. As a part of the interview, Sanjana has given an exciting task to Bumrah. He has to look at several clicks that he had shared as a post on his official Instagram and explain the memories behind the photographs.
Two of the selected photographs in the video was from Bumrah's marriage! After looking at the beautiful picture, Bumrah was blushing and said, "who is there in this photograph? I have seen this person, I think; after hearing such words, Sanjana smiled.
When Sanjana asks from Bumrah, share your memories! He said this day was the best day of my life, and it just happened recently, and it was the blessed and happiest day ever. At the end of the conversation, both were smiling and looking at each other. Even Bumrah asked Sanjana, who wrote such a beautiful caption on my Instagram post; she was smiling and was saying -it's me.
The chemistry and bond between the couple are extremely wonderful! The two hitched recently in a private ceremony in February this year. Both Sanjana and Bumrah are recently there in England for the World Test Championship 2021.
During their wonderful chat, Bumrah and Sanjana went through their best memories, and it was a fun-filled interview, which is loved and appreciated by fans. The interview showcases how perfect a couple looks in reel life when both are doing great in their profession.
This super-cute video goes viral in hours, and Bumrah fans are loving it! With more than 7,000 likes and 500+RT's in an hour, the video is getting so much love.
What do you think about this video? Audience! Do you love it?
You can watch the interview here-: https://youtu.be/rkVFy4JghLI
Image Cr- DNA India