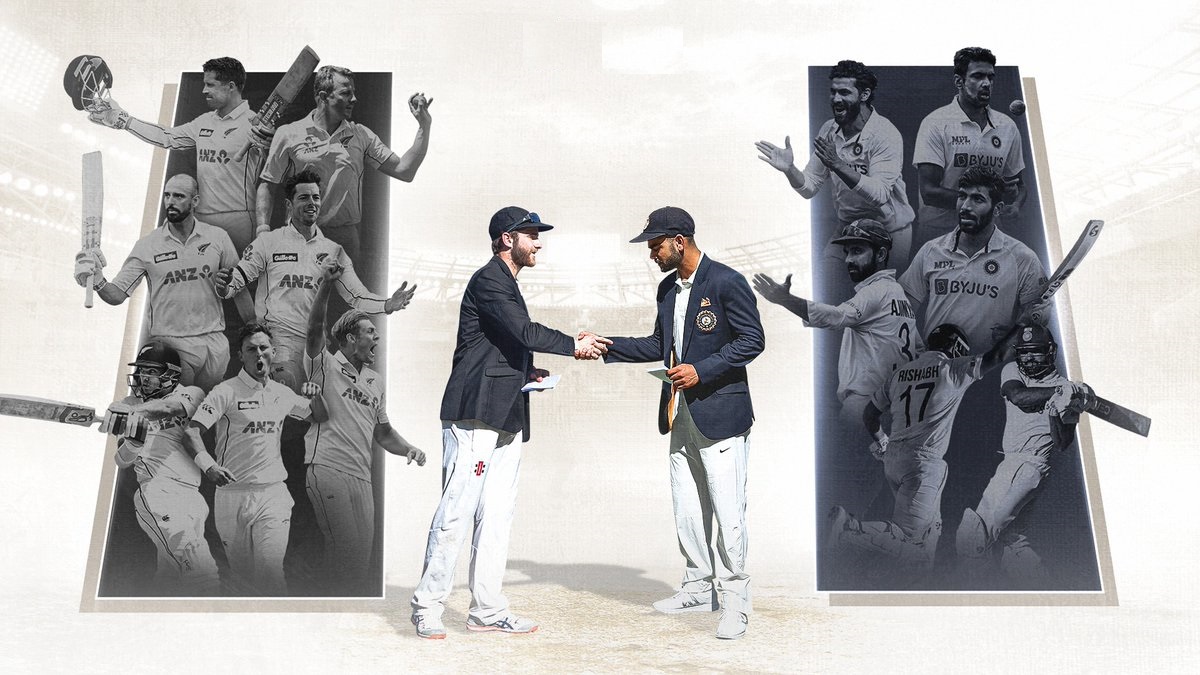 No Hardik Pandya, Prithvi Shaw, Bhuvneshwar Kumar, and Kuldip Yadav in India's squad where KL Rahul and Wriddhiman Saha subject to fitness clearance for World Test Championship Final against New Zealand at Southampton.
India will play the World Test Championship Final from June 18 to 22 in Southampton, England. Team India will leave for England on June 2. Mohammed Shami, Ravindra Jadeja, and Hanuma Vihari returned to the team India.
Squad: Rohit Sharma, Shubman Gill, Mayank Agarwal, Cheteshwar Pujara, Virat Kohli (Captain), Ajinkya Rahane (vice-captain), Hanuma Vihari, Rishabh Pant (wicket-keeper), R Ashwin, Ravindra Jadeja, Axar Patel, Washington Sundar, Jasprit Bumrah, Ishant Sharma, Mohammed Shami, Mohammed Siraj, Shardul Thakur, Umesh Yadav, KL Rahul*, Wriddhiman Saha*

* (wicket-keeper; subject to fitness clearance)

Standby players: Abhimanyu Easwaran, Prasidh Krishna, Avesh Khan, Arzan Nagwaswalla



Ravindra Jadeja has made comeback after Australia Test. Axar Patel has retained his position based on an exceptional performance. Also, Hanuman Vihari has retained who missed the home Test match against England after tearing his hamstring in the famous SCG draw.
There are three fit opening positions - Rohit Sharma, Mayank Agarwal, and Shubham Gill. Prithvi Shaw lost his spot and KL Rahul as the fourth opening choice but he recently underwent surgery for acute appendicitis.
Kuldeep has lost his Test place after spending the entire tour of Australia on the bench.
On the side of fast-bowling options, Mohammed Shami has backed into action with Jasprit Bumrah, Ishant Sharma, Mohammed Siraj, Shardul Thakur, and Umesh Yadav. Bhuvneshwar Kumar hasn't made his position in the squad.
Openers

- Rohit, Rahul, Gill, Mayank

Middle order

- Pujara, Kohli, Rahane, Vihari

Wicket Keeper - Pant, Saha

Pacers

- Bumrah, Shami, Umesh, Shardul, Ishant, Siraj

Spinners

- Ashwin, Jadeja, Axar, Sundar



Team India stats at Southampton
Highest averages
AM Rahane - 56.00, 3 (50's)
CA Pujara - 54.33, 1 (100)
Most wickets

Mohammed Shami - 7
Team India Probable XI: Rohit Sharma, Shubman Gill, Cheteshwar Pujara, Virat Kohli (Captain), Ajinkya Rahane (vice-captain), Rishabh Pant, Ravindra Jadeja, Ravichandra Ashwin, Mohammed Shami, Ishant Sharma, Jasprit Bumrah

`
Share me your probable XI in the comment section

Image Cr- Scroll.in, ICC
user : Rutik
message : Team India Probable XI: Rohit Sharma, KL Rahul, Cheteshwar Pujara, Virat Kohli (Captain), Ajinkya Rahane (vice-captain), Rishabh Pant, Ravindra Jadeja, Ravichandra Ashwin, Mohammed Shami, Axar Patel, Jasprit Bumrah
user : Devendra Patil
message : Team India Probable XI: Rohit Sharma, Kl Rahul (if fit)or Shubham gill, Cheteshwar Pujara, Virat Kohli (Captain), Ajinkya Rahane (vice-captain), Rishabh Pant, Ravindra Jadeja, Ravichandra Ashwin, Mohammed Siraj, Ishant Sharma, Jasprit Bumrah
user : Yojan
message : message : Team India Probable XI: Rohit Sharma, KL Rahul, Cheteshwar Pujara, Virat Kohli (Captain), Ajinkya Rahane (vice-captain), Rishabh Pant, Ravindra Jadeja, Ravichandra Ashwin, Mohammed Shami, Axar Patel, Jasprit Bumrah