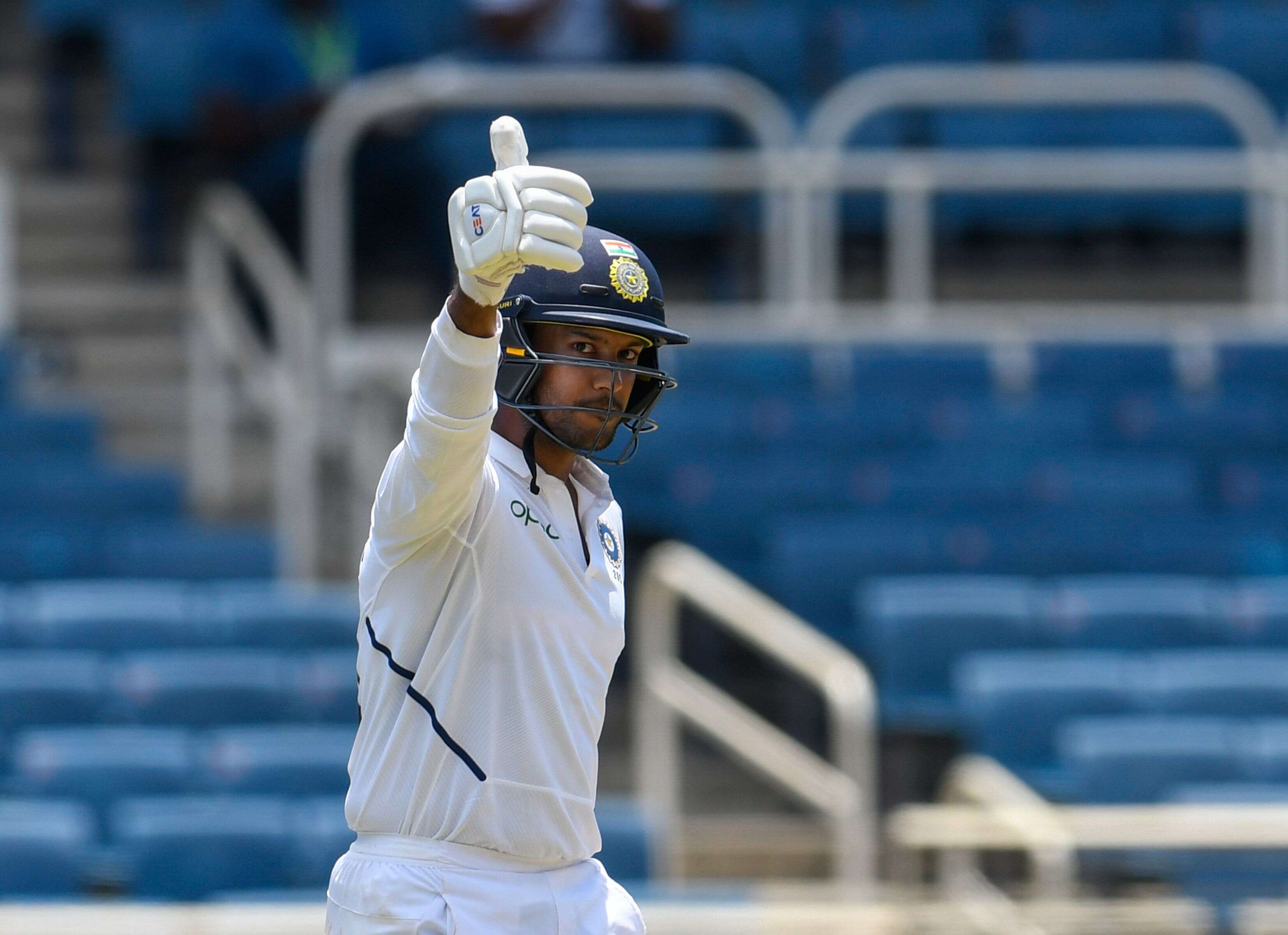 From facing an uncertainty whether he will ever play for India, to becoming the first-choice opener, 28-year-old Mayank Agarwal has come a long way. He was a part of the team in the recently concluded West Indies series.
"Nothing has changed. It is still the same in terms of preparations and working hard," he said in a recent interview with TOI when he was asked about the differences between international cricket and domestic cricket are.
"Probably, I'm just working harder. I believe you have to get fitter and better. I think now I understand my game better. Also, I'm more mature in terms of how I respond to different conditions and situations. For example, if there is a green-top or damp wickets, I make better decisions on what strengths to stick to," he added.
Agarwal also said that for him it was important to work on his fitness. He even shared his memory of batting with the captain Virat Kohli.
"Virat came into bat about half hour before lunch. The first thing we spoke about was getting a partnership going. We said, 'Let's not take any chance, let's hold on to both ends till lunch and then come out.' So we were tight and cautious," Agarwal shared.
"After lunch, Virat went bang, bang, bang and suddenly upped the ante. What I took from Virat's batting is intensity and mindset in terms of how he looks at and reads situations. He also brings in a lot of energy. He is the guy at the forefront, leading by example. There were so many guys doing the job well, Jinks (Ajinkya Rahane), (Hanuma) Vihari. It is great to be involved with a team like this," he said.
"I think it helps tremendously. You get to play in conditions which are as close as you can get in a Test series. Every country is putting out quality teams when you are playing A team tournaments. Game time coupled with runs, experience and understanding gives you a lot of information, knowledge, confidence and feedback to go out and play the bigger matches. There is no better preparation than the A series," Agarwal said.
"It is great to be in an environment where you have to be at your best always because there is no room for being casual or complacent. It not only helps the players, but it also helps cricket in India. I don't believe there is competition in the team. We are with each other, playing with each other, against an opposition," he expressed.
Domestic cricket was where Agarwal earned his reputation by setting up high record.
"I believe in playing a lot of matches. Domestic cricket in my opinion is very important. As a player, you cannot disregard it. Whatever you do, you cannot forget that it is the foundation. There is a lot of grind and situation you go through in domestic cricket, so it teaches you a lot as a person and a cricketer," Agarwal told.
"Personally, it's been a great teacher. When I was younger, there were times when I didn't know if I would play international cricket. It felt like I was in the middle of the sea, but domestic cricket teaches you to just continue swimming. That's when you get to know if you have it in you to put in the hard yards," he expressed.
Finally, the opener expressed his desire to play his first Test on home soil against South Africa.
"Playing at home is always special and I'm really looking forward to the series. There was a lot I learnt in Australia, there was even more learning in the West Indies. I'm working on what I've learnt and I'm eager to go out and put those lessons to use against South Africa and have a good series at home," he concluded.
Image Cr-: Times of India, NDTV Sports, NewsroomPost