Kate Cross have been instrumental in changing fortunes for the England team (Image Cr. Getty Images)
India have lost in the final game by 1 run. They needed only 3 runs in the final over but no batter was able to take a single and gave strike to Mithali Raj who was at the other end and has much experience how to get past the line in such kind of situation. However, Kate Cross' brilliance helped England to win the nail-biting game and the series by 3-0 as well.
Kate Cross was present in the post-match press conference and was talking about her journey. There was a time in 2016, when after bowling an expensive over against Pakistan in an ODI, she had to wear her sunglasses to hide her tears and that feeling was something which she could hardly express. She was struggling with her anxiety as well.
"I'm so out of my depth - I don't know what I'm doing here," she said in an interview with BBC, last year in August.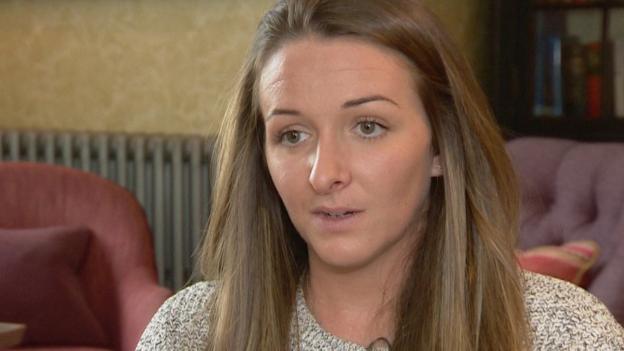 Kate Cross giving an interview to BBC (Image Cr. BBC)

"It's been a long couple of years [for me]," Cross expressed after England claimed a scintillating win. "But it's nice to be back on the field. Taking the match till last over was unbelievable. I am glad I pulled off the last over, managed to defend the low total."
However, her career has lots of ups and downs. She made her debut in 2011 during their tour to Australia. Two years later, her match winning 4 for 51 made her one of the important players in the squad but that ODI against Pakistan kept her out of international circuit until July 2018.
Meanwhile, the past four months has helped her to become a more mature player who can hit the clear the ropes. The first time it came in her first innings with the Perth Scorchers, where she smashed a 10-ball 20, batting at No. 5, where she hit a six off Dane van Neikerk from Sydney Sixers.
"The Big Bash was a big help for me because I got to play some tough cricket consistently, which is something that I have not been able to do in international cricket, Cross added. "I have been in the nets a little bit more. Obviously when you are not playing, you will have some time to practice and develop some skills."
Heather Knight celebrating after scoring a well deserved century (Image cr. D.Chronicles)

While talking about the team, Knight explained, "We've come a long way as a side. Speaking to Laura [Marsh] at the end of the game, she said we would have probably lost that three or four years ago. It's just about knowing how you work as a player, and I guess me trying to work out what the best thing to say to a player is and try and keep them quite calm, and quite slow as well [because] in pressure situations, you tend to speed up things, you go through situations quickly.
"We actually did a few pressure tests in terms of batting with some crowd noise playing whilst we were training. It's more individual, knowing how you react to certain situations."
"That's the kind of thing we practise when we're back home, in indoor school," Cross says. "We practise scenarios when you're defending a low total, you're setting your fields. That's the most pressure obviously we can create when not out there in the field. So it almost felt to me [today] like I've been in that situation before," Cross added.